Yamaha
GeoLM have offered Location Based Services to MOTODYNAMIKH -the official Distributor of YAMAHA vehicles in Greece- in order to improve their Dealer Network Structure in the Country.
AlfaSolid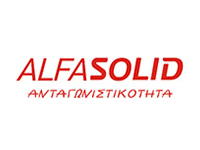 GeoLM have implemented an integrated CRM solution, based on Act!. With this solution the company manage centrally their customer's information.
Groupama
GeoLM have implemented a GeoInsurance application for the Greek subsidiary of the French Insurance Giant. The application is currently used by the Marketing Department.
ICAP
The Company use Oracle's Hyperion Performance Suite tools and have created a full-scale MIS, so that the management can quickly and accurately get crucial Information. The System communicates with the data warehouse which provide information to the users, thus helping them in their decision-making process.